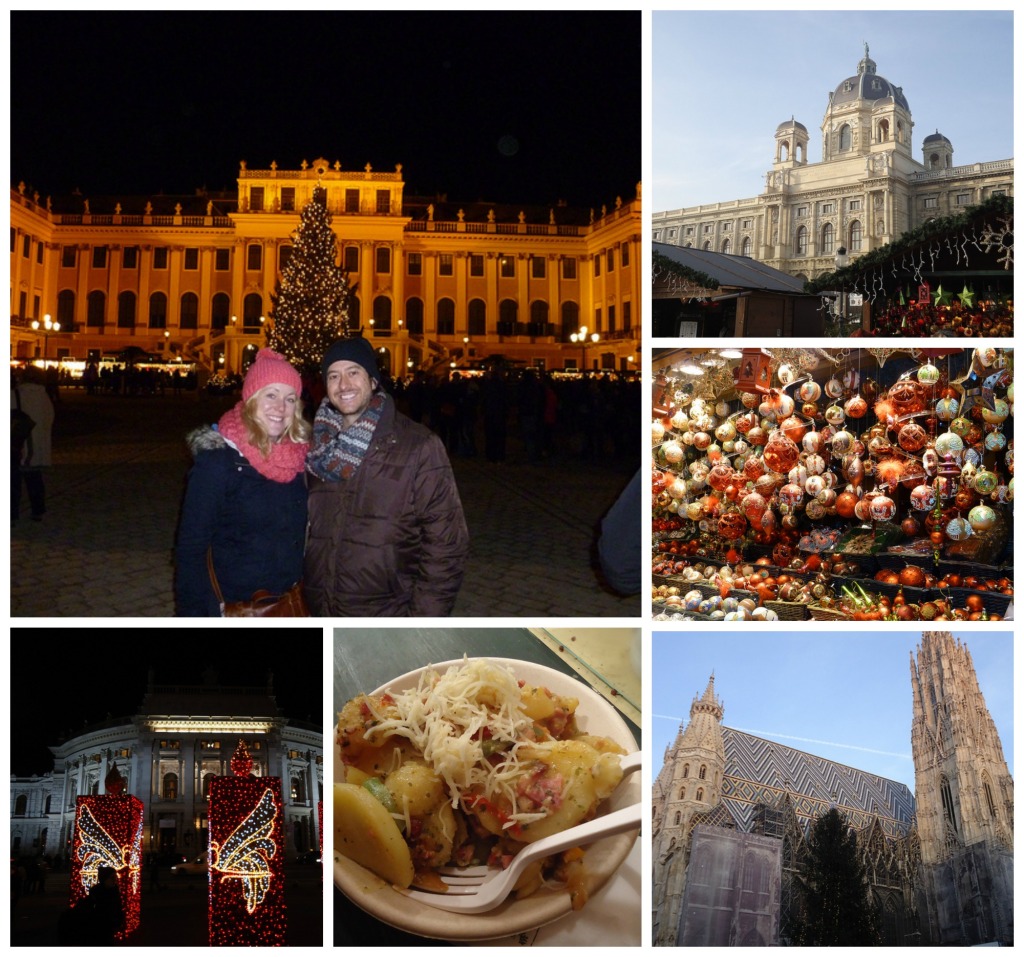 Vienna doesn't get too much hype when it comes to best European Christmas market cities, as everyone is usually too busy slobbering over Nuremberg, Cologne, and any other places that were on the most recent "Best Christmas Markets in Europe" slideshow going around the internet.
That ends up being a good thing in my opinion though, as on average, Vienna Christmas markets end up having a much more intimate and elegant atmosphere than those other hyped-up places.
What also makes Vienna at Christmas so special is the fact that there are so many markets. There are 40 to 50 at last count, and while they all typically offer a similar array of sizzling food, Gluhwein (warm holiday spiced wine), and Christmassy crafts, each one of them has its own unique and wintry twists. We spent 3 nights (I recommend 2-3 nights minimum) touring around the markets, and here is my take on some of the best Vienna Christmas markets.
The Ones You Pretty Much Have to Go To
Schonbrunn Palace Christmas Market
This was the first market we went to in Vienna, and it set a great tone for the rest of our time there. Having the stunning Schonbrunn Palace as a backdrop is a major plus and the massive Christmas tree here is a winner too. It's hard to explain, but this golden Habsburg palace bathed in twinkling holiday lights just seems like just the perfect symbol for the elegant city of Vienna at Christmas time.
Bottom Line: Ravishing royal palace backdrop and massive Christmas tree.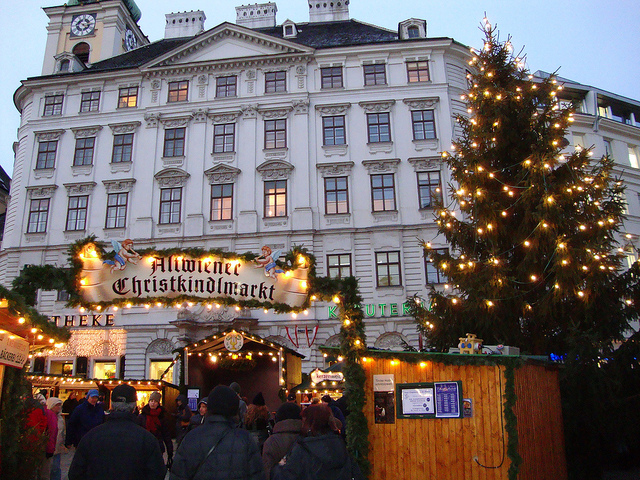 Old Vienna Christmas Market at Freyung & Am Hof Christmas Market
I am putting these two together, because they are a stone's throw from each other, both located in romantic squares, and offer a laid back and chilled-out charm that we fell in love with immediately. I also had the best schnapps of my life at the Freyung market, so that didn't hurt their cause either. These two markets really came to symbolize Vienna Christmas markets for me too, because we were surrounded by crowds of locals clinking wine glasses after work on a weeknight. They were simply celebrating the festive winter season with friends, and that truly is what Christmas markets are all about.
Bottom Line: Picturesque small squares lit up for Christmas filled with hip locals.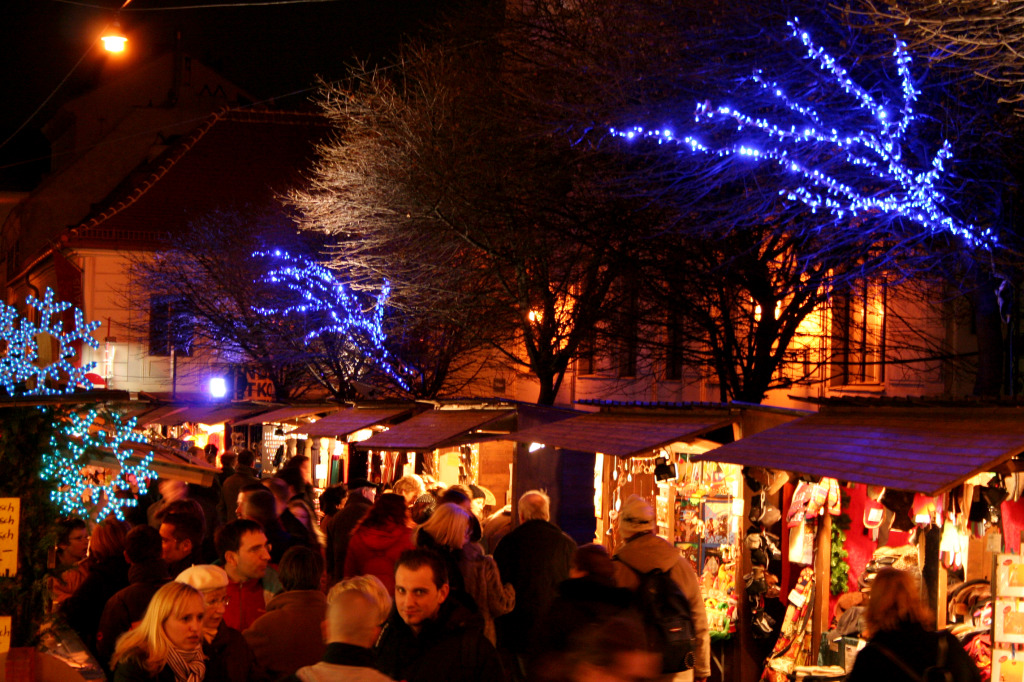 Spittelberg Christmas market
This little spot behind the Museumsquartier is a bit hidden, but it's well worth seeking out. The cobblestoned medieval streets of the Spittelberg area of town really make the atmosphere amazing here. In addition to the usual assortment of crafts and spiced wine available from wooden stalls, the bars that line the old Spittelberg streets get in on the fun too with warm seasonal drinks and a refuge from the cold if you need it.
Bottom Line: Unique vibe as it takes place on weathered and windy cobblestone streets instead of a large open space, another one popular with locals that feels more like a holiday happy hour spot than tourist photo op.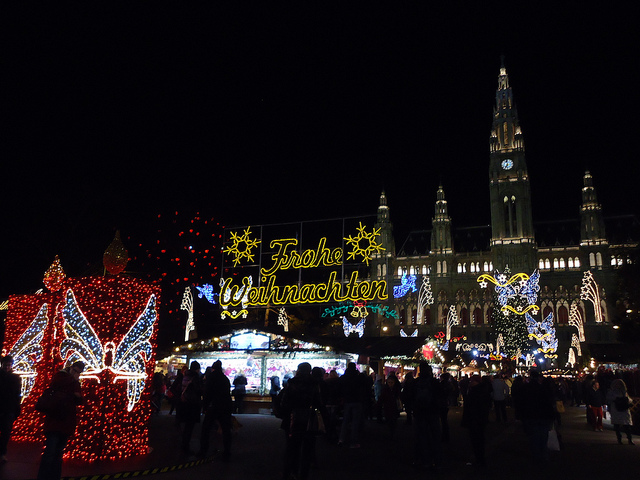 Vienna Christmas Market at the Rathausplatz (Town Hall)
This is the big one, and you have to at least see it. It's cute and the town hall as a backdrop isn't half bad at all, just be prepared for more crowds and a bit more sterile atmosphere compared to the other ones in town. There are a handful of rides, so this is definitely a great family spot.
Bottom Line: It is the signature "Vienna Christmas Market" and you kinda have to at least go and see it.
Good Ones To Go To If You Feel Like Partying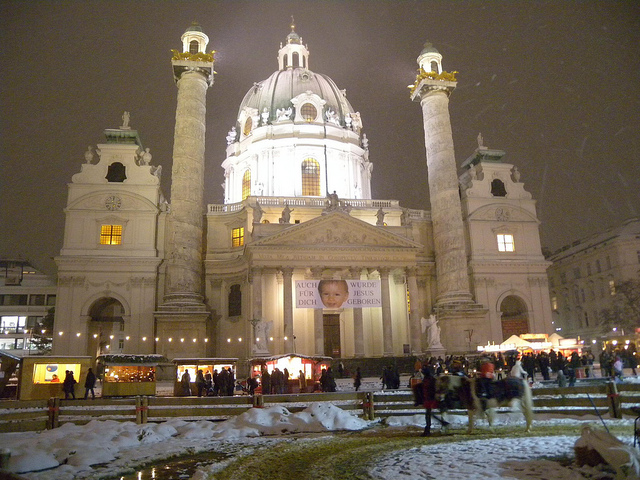 Karlskirche Christmas Market
Located behind a gorgeous baroque Church, this Christmas market is put on by Divina Art, a Vienna artisan outfit. This market has a park setting and is full of people having a festive and relaxed time, and like I said earlier, I think that is what Christmas markets are really all about.
Bottom Line: Great off-the-beaten path spot with an artsy and quirky vibe.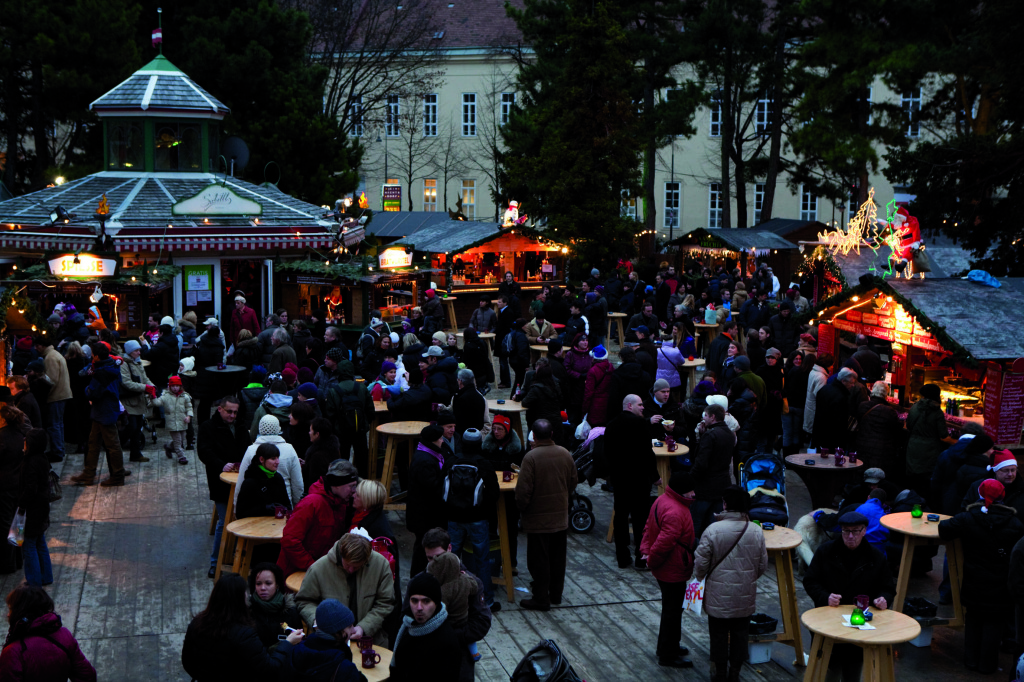 Christmas Market at Altes AKH
This one was actually probably my favorite. It's a hidden little holiday village on a college campus, and as you would guess, Austrian college kids love themselves some warmed spiced wine. This is also the Christmas market where I first heard "Merry Christmas Everyone" by Shakin' Stevens all the while fake foam snow fell on me. I then proceeded to sing that song all December. Aaah, the memories.
Bottom Line: Go forth and have one too many mulled wines, you'll have a blast, trust me.
The Don't Beat Yourself Up If You Miss 'Ems
Maria-Theresien-Platz Christmas Market
Located right between the grandest of Viennese buildings in the Art History Museum and Natural History Museum, the setting is nice enough, it just lacks, well, atmosphere. It feels like the kind of place that people just cut through on their way to somewhere else, so by all means look around, but you'll probably just end up just cutting through.
Christmas Market at Stephensplatz
It just feels like it's been set up simply to take advantage of all the foot traffic around St. Stephens Cathedral, that church with the groovy tiled roof. As pretty as the church is, this one just really didn't do it for us. I mean, if you're fiending for a Gluwhein and you just happen to walking by and one thing leads to another, life could be worse I suppose. You probably won't be breaking into song about this place when you look back on your trip, that's all I'm saying. We bought a pretty mulled wine mug here though, so it does have that going for it.
The One By The Big Ferris Wheel
There's also a Christmas market by the Riesenrad, which is the famous old-school Ferris wheel that you are required to ride when you are in Vienna. Well, go ahead and give that one a miss, too. It's inside the Prater Amusement Park and Madame Tussauds is providing the ambiance, so yeah, that's pretty much all you need to know. Don't skip the Ferris Wheel though, it's worth your time if not for its history alone and riding it at sunset is definitely a romantic way to start a night at the Vienna Christmas markets.
The One We Didn't Make It To But You Should Totally Go To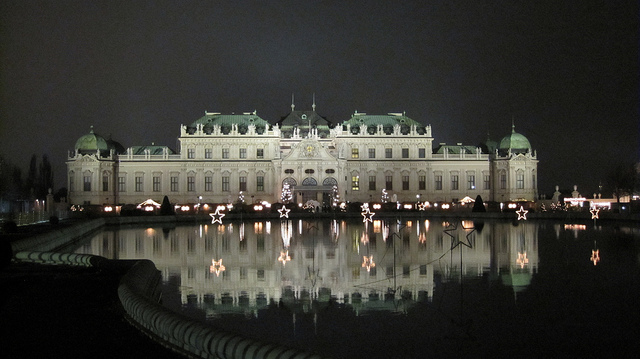 Schloss Belvedere Christmas Market
We just couldn't squeeze this one into our plans, but by all accounts it is really, really worth seeing. From what I can tell, the Christmas market at Schloss Belevedere has the laid back and intimate charm of some of the Christmas markets we loved so much mentioned above with the style and sophistication of Schonbrunn Palace.
Bottom Line: It's much lesser known than Schonbrunn, without a doubt a gorgeous palace, and definitely first on our list for next time.
So I hope this helps, and if you want links to official websites for these markets and things like locations and stuff, the official Vienna Tourism page has you covered.