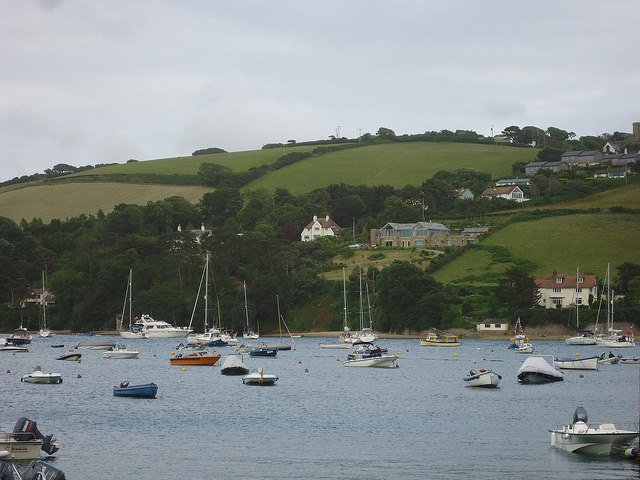 Conventional wisdom says the best way to make an arrival into a harbor town is to come gliding towards its shores on the bow of a boat. You know; the wind in your hair, the sun bouncing off your shades, the sweater tied around your neck (just in case), and the beauty of the town coming further into focus as you bob ever closer.
Well, I sailed in to Salcombe, South Devon in a rental car, and I ended up falling in love just the same.
Why?
The Coastline
It was in that car on the hills above Salcombe where I saw the South Devon Coast for the first time – for a fleeting moment through a frame of leaves – and this specific slice of shore was all it took to become infatuated with both the region in general and Salcombe in particular.
I was behind the wheel, so I couldn't pay too much attention, but what I managed to see in that split second was enough to send my imagination running wild: untamed waves crashing on stones, sea foam being flung, and a backdrop of tropical trees and caramel beaches I never knew existed in England.
The Vacation Vibe
After regaining my breath from the view above town, we parked our car and strolled into town, where things got even better. Our route took us by plenty of pastel cottages – most adorned with cursive wrought-iron signs announcing names like 'Home Sea Home' – docked sailboats, squawking seagulls, and stacks of crab baskets. Kids were fishing for crustaceans from the dock as parents watched on, creating a downright heartwarming (did I just stype heartwarming?) holiday scene. Above it all sat the softest rolling hills you could imagine, in swaths of green and straw.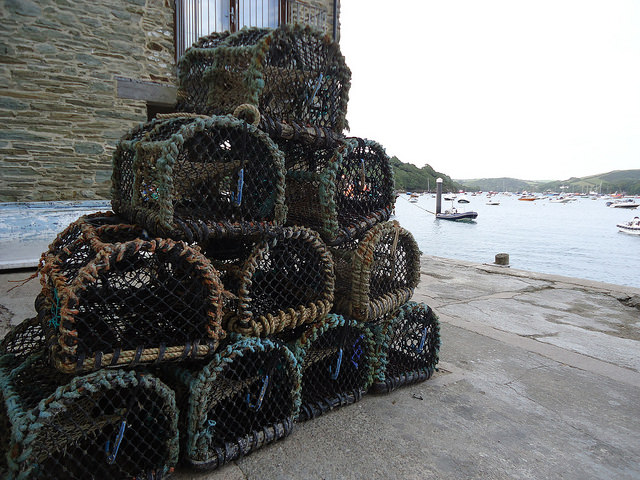 Basically, the town felt like every summer vacation anyone's ever taken has been bottled up and brought to this little corner of South Devon. As we strolled past the boutiques selling boat shoes and other assorted garments that complement sea legs, we only had one question on our mind: what's for dinner?
The Winking Prawn
We have a bad habit of showing up somewhere on our first night of a trip without the slightest clue of where to eat, and it tends to work out great every time … fifty percent of the time. The Winking Prawn (of course they have a restaurant called the Winking Prawn in Salcombe) ended up being a godsend.
We stumbled into The Winking Prawn after a fifteen minute stroll from the harbor that took us past stately homes and lush gardens, and this pink-hued beach shack dished up some of the most mouth-watering sea bream and cider (Hunt's Sparkling Heritage, if you're wondering) I've ever had. They've also got one of those 'kitchsy-but-cute' wooden boards where you stick your head through a hole to make it look like you are actually a sea creature, and we all know you can't ever pass one of those up.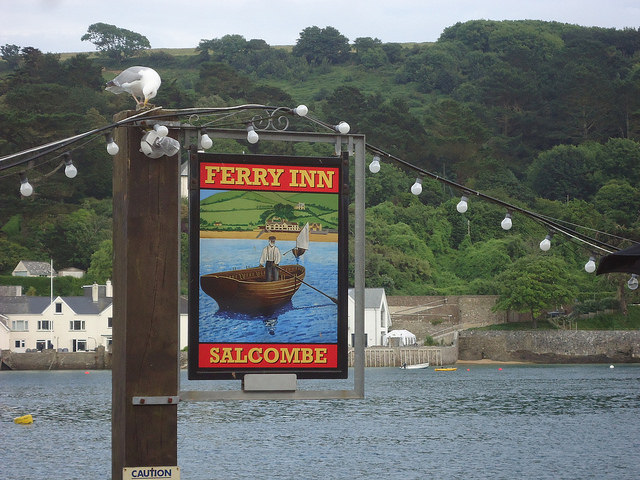 The Ferry-ing
Being located on an estuary certainly has its advantages (like the spectacular natural scenes I described above, alongside fantastically fresh seafood), but there are some practicalities that need tending to in a place like Salcombe: namely, getting to the other side. Luckily, there are a handful of romantic 'foot-passenger only' ferries plying these waters, and they add another layer of allure to this seaside town. Ferries set off for neighboring East Portlemouth all year round, and seasonably to upriver Kingsbridge and local beaches. Even if you don't take a trip for yourself, toasting the ferries at The Ferry Inn like we did – with a view to the water where the ferries float – is a great way to while a way an hour or two.
An earlier version of this post appeared on TravelPulse