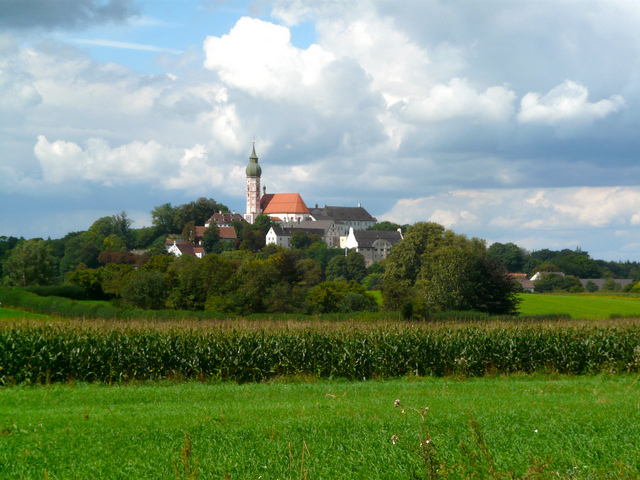 On the final evening of my inaugural trip to Europe, I took a walking tour of Munich and afterwards ended up having a few beers with the gregarious leader of the tour. It was from this wise gentleman that I first heard the legend of the Kloster Andechs Monastery Munich, the holy hilltop beer beacon of the Bavarian countryside.
Sadly, It took me a few more trips to Munich and a handful of other enthusiastic recommendations to finally make the trip out to the Kloster Andechs Monastery. When I did, it proved to be well worth the wait, so don't repeat my mistake.
Kloster Andechs has been a site of religious pilgrims for centuries as its gilded Baroque church is home to a small collection of revered relics. Most importantly for most of us though, the monastery is known the world over for brewing some of the best beer anywhere and when you visit in person, you get to enjoy it freshly brewed and in a simply stunning setting.
Kloster Andechs sits atop a hill in the rolling Bavarian countryside, placed between two serene lakes and within eye shot of the Alps. Once you make it up the hill, you get the chance to drink their famous beer fresh from oak barrels and enjoy plates of traditional Bavarian cuisine. You can even arrange tastings and private tours if you're into that kind of thing. We ordered our beer and food and hung out in the biergarten, but there is also an inside portion in case the weather isn't idyllic.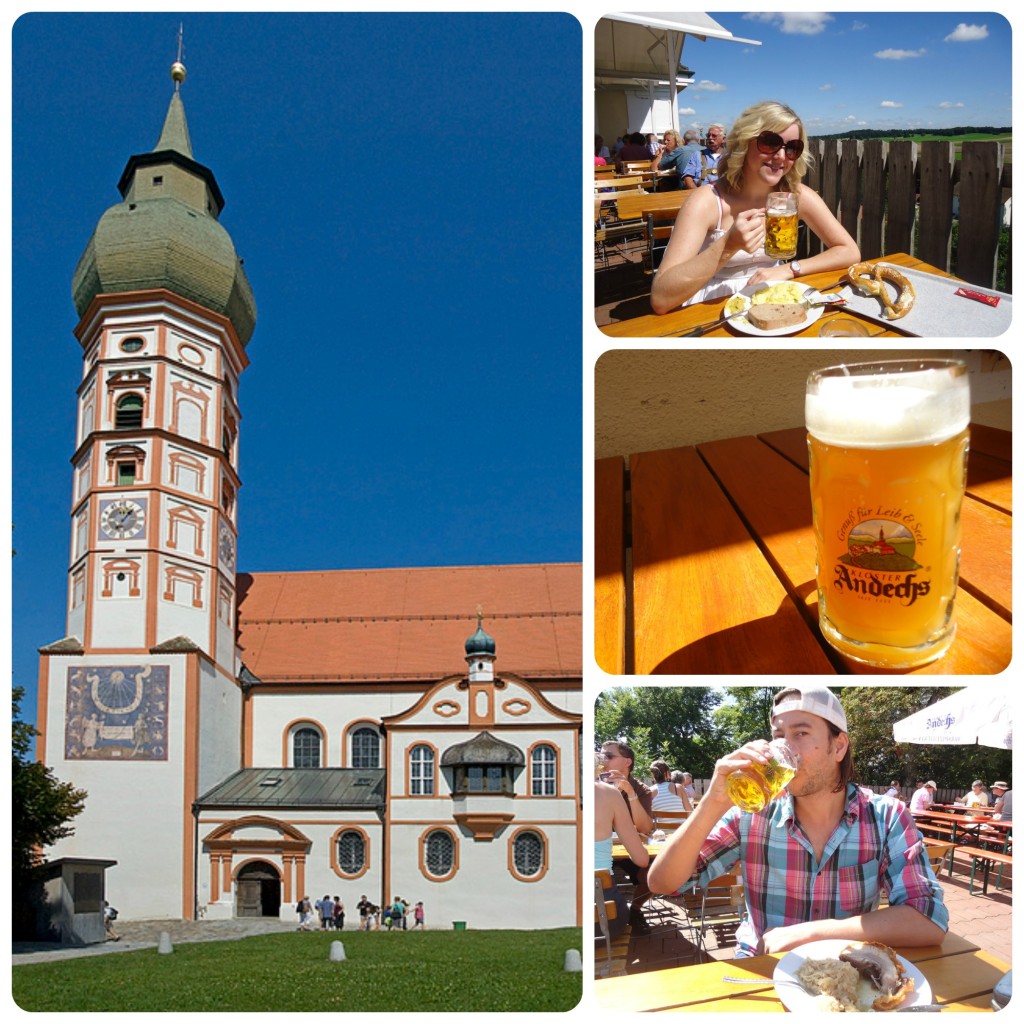 You could easily spend an entire day feasting at Andechs and surrounds, and that's precisely what I recommend you do. It's the perfect place to soak up some sun and suds and take a break from sightseeing in Munich. After all, you probably came to Bavaria to see some pretty onion-domed churches and drink some amazing beer, right? Well, you can do it all at Kloster Andechs.
Know Before You Go:
Kloster Andechs Monastery is open everyday from 10-8 except for major holidays. I recommend getting there early or late on a weekday to avoid the crowds though.
You can either drive from Munich (about 30 minutes but not really recommended due to the drinking), or take the S-Bahn S8 Line to its last stop called Herrsching and then walk a couple miles from the station (could be cool on a nice day) or take a bus from the Herrsching station to Andechs when you arrive. The second option will probably take you around an hour or so.
If you feel like making it a day and night of it, there are a small amount of rooms available to stay in at Kloster Andechs, but they go fast.
The beers the Kloster Andechs Monastery brews are: Export Dunkel, Doppelbock Dunkel, Weissbier Hell (my fave), Weissbier Dunkel, Vollbier Hell, Spezial Hell, Bergbock Hell, but they will also hook you up with a Radler or a beer with apple juice too.
To read more about their beer, the history behind the monastery, and how to book a room, check out their Official Site.