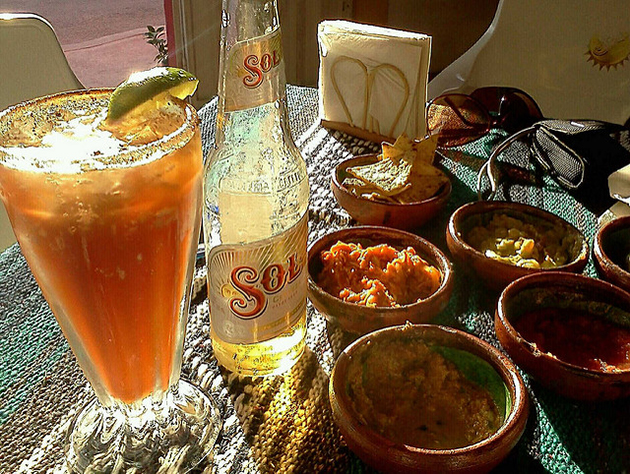 I have no problem at all admitting that I hang out in bars when I travel, and believe it or not, it's actually not entirely about the drinks. No, nearly every country in the world has managed to develop its own unique style of traditional drinking den, which often up offering some of the best insights into the country itself.
Britain has the pub, America has the dive bar, Japan has the izakaya, and Mexico has the cantina, quite possibly my favorite one of them all. Yes, the humble cantina, like the aforementioned styles of bar, is a laid back place to mingle, tip 'em back, and savor the true taste of Mexico.
While you'll find cantinas all over the country, the capital is home to the highest concentration, and here are a few of the best cantinas in Mexico City, all located within the gorgeous historic center.
La Mascota has been serving up cheap drinks and tasty food for decades, and is a great first cantina to get your feet wet in. It may not look like much on the outside, but you'll soon find a room oozing the charms of yesteryear on the inside lined with intricate tiles and splashes of maroon and yellow on the walls. Waiters sporting sharp vests and bowties gregariously work the room, delivering drinks and food with a smile, and the delicious food is on the casa along as you're drinking. Keep an eye out for traditional singers, who have been known to pop in and serenade the crowd.
Address: Mesones 20
Tel: +52 5709-7852  
If you like a side of bullfighting memorabilia with your beer (and who among us hasn't craved that combo before), then La Faena is definitely your spot. A sprawling space full of vibrant tiles and plastic white tables, the walls here are lined with a plethora of bullfighting paraphernalia, and the bar serves up the classic cantina combo of cold beer, tequila, and absolutely no frills.
Address: Venustiano Carranza 49
Telephone: +52 5510-4417   
Rough, ready, and a really good time, La Dominica has been pouring drinks for over 60 years, picking up a very loyal local following along the way. Retro-cool baby blue walls (it's not ironic, trust me) grab your attention when you stroll in, and are complemented perfectly by dark wooden tables and an antique cash register. This is another cantina where the food is complimentary as long as you're drinking, and all of it is doled out a dapper veteran staff of bartenders, some of whom have been staples here for decades.
Address: Belisario Dominguez 61
Telephone: 5512 7977
The most famous of all cantinas in Mexico City, no crawl would be complete without a drink here. Opulent isn't a word that's typically used to describe cantinas, but I'll be darned if it doesn't fit La Opera like a glove. Crown molding, engraved wood, plush red booths, and elegant light make it feel more like a Viennese cafe than a hole-in-the-wall, even though they are famous for a hole in their wall. Yes, legend has it that a bullet lodged in their ceiling was fired by famous Mexican revolutionary Pancho Villa, and even though some would argue this place is too 'posh' to be a proper cantina, with that kind of street cred, I'm counting it.
Address: Calle 5 de Mayo No. 10
Telephone: +52 5512-8959   
An earlier version of this post appeared on TravelPulse